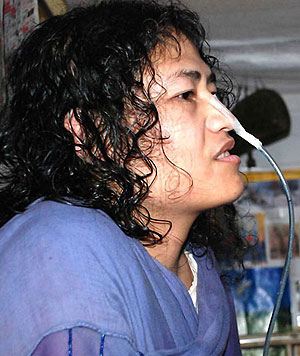 Irom Sharmila is an Indian activist who is on a hunger-strike for 10 years to protest against police violence in Manipur, her birthplace. From November 2000, when she saw how some soldiers killed in cold blood 10 civilians accused of collaborating with separatists, Sharmila begun this battle against herself, in which the battlefield is her own body.
Manipur, one of the seven regions of north-eastern India known as the "Seven Little Sisters", is plagued by separatist terrorism and police repression in equal measure. As in Kashmir, the Armed Forces Special Powers Act (AFSPA) applies in Manipur, which authorizes any military or paramilitary soldier, whatever the rank, to detain, interrogate and even fire on all those considered terror suspects without the need for any order. Sharmila asks for the abolition of this law.
After a decade being deprived of water and solid food in her tortured body, Irom Sharmila remains under arrest in a hospital room, accused of attempting suicide and receiving saline through tubes in her nose. Despite her delicate condition and the physical deterioration she suffers, she has made the effort to learn yoga and to read. At times, she is visited by journalists such as her biographer Priya Mehrotra. In the book that describes Sharmila's fight against AFSPA, Mehrotra affirms that "it not a strike to die but to live and to make life a battle against an unjust law".
In the documentary, My body, my weapon, the fragile Sharmila says her mother showed even more courage in letting her go ahead with "the duty" to fight against AFSPA. And she confesses to having asked her mother never to visit her in the hospital where she is prisoner, since "if she sees how I am, my strength will flag and I could abandon my fight".
With time, Sharmila has become a symbol of the people of Manipur and its situation. The government of New Delhi has offered on various occasions to stop applying AFSPA in the region if Sharmila gives up her fast but she has always rejected it, demanding the total abolition of the law throughout the country. In Manipur, Irom Sharmila is known as 'Menghaobi', the champion of justice.
Since 1980, AFSPA has been in force almost without a break in Manipur. Since then, hundreds of people have suffered the consequences. Only in this year (2009), the government admitted that 265 people have died in the application of this law, though independent organisations think there are many more victims. Some, like the renowned journalist Ramachandra Guha, ask if it is worth keeping in place a law which in all its time has not solved any problem, only created more.
Source: El Mundo, Crónicas Desde Asia
http://www.elmundo.es/elmundo/2009/12/23/cronicasdesdeasia/1261565495.html
---
More resources on Irom Sharmila's struggle in English:
Irom Chanu Sharmila, Wikipedia
Kavita Joshi, documentary film-maker on Irom Sharmila
---
Source: Diez años en huelga de hambre para cambiar una ley

Original article published on 23rd December 2009

About the author

Supriyo Chatterjee is a member of Tlaxcala, the network of translators for linguistic diversity. This translation may be reprinted as long as the content remains unaltered, and the source, author and translator are cited.

URL of this article on Tlaxcala: http://www.tlaxcala.es/pp.asp?reference=9724&lg=en