The German broadsheet Frankfurter Allgemeine Zeitung, which people know is my local paper, recently missed a "left inspired intellectual scene" which it is lacking "now of all times", "at a time, when social criticism could really be in one's element…not one little revolutionary noise far and wide. Red feigns death."(1) Touching. The bourgeoisie has identity problems. It needs adversaries so that there are clear fronts.

But there is the Left Party Die Linke, a left party – is it not? "Now we are going to start a different kind of redistribution, one with more justice," Gregor Gysi, the chairman of the parliamentary faction of the Left Party, said yesterday evening on the German public service TV channel ZDF (in the programme "TV-Dreikampf" on 10 September 2009).

Really? Well, let's examine what the Left Party is capable of, in those places where it forms part of a coalition government, for example, in Berlin where the SPD and Die Linke have governed jointly since 2002.

The SPD/Left Party coalition government slashed contributions for homeless people and for disabled facilities (2002), abolished support for blind people (2005), got rid of the reduced fare for benefit recipients for local public transport (2004), to reintroduce it later, as a result of the fierce protests, at a price three times as high. Berlin became a pioneer with the abolishment of the free supply of learning aids in state schools (2003), increased the fees for nurseries (2003), slashed the budget for youth welfare from 400 million euros (2001) to 230 million euros (2005) and created 24,000 one euro jobs*, which is great for destroying jobs paid according to collectively agreed scales.

Some people, who for example had a permanent position in a nursery and had been dismissed, found themselves as the same workplace in a one euro job.

The Left Party is jointly responsible for the privatisation of municipal housing corporations. In 2004 the not for profit housing corporation GSW (Gemeinnützige Siedlungs- und Wohnungsbaugesellschaft) was sold to a consortium consisting of the international funds Whitehall (Goldman Sachs) and Cerberus for 405 million euros. The SPD/Left Party city government sold 1,700 flats belonging to the municipal housing corporation WBM (Wohnungsbaugesellschaft Berlin-Mitte) to the investor Puma Brandenburg Limited, who openly speculated on rising rents. (2) The Berlin housing corporation achieved almost 272 million euros in revenue from the sale of 4,500 flats between early 2007 and autumn 2008 alone.

At the same time tenant advice initiatives had their grants cut or withdrawn. It would after all be annoying, if well informed tenants were to defend themselves better. The sale of municipally owned flats resulted in increasing rents, thus pushing out socially disadvantaged tenants.

Since 1995 209,000 municipal flats have been privatised in Berlin, more than 57 per cent of them, about 120,000, between 2002 and 2005, since the Left Party "has been in power". (4)

Never before since 1945 has the public health sector in Berlin been wrecked to this extent as it has under the SPD/Left Party government. Many hospitals have now been privatised. The new owner is the company Vivantes. It carries the alternative sounding affix "network for health". This 'network' is a corporation, and bit by bit virtually all areas of in-patient healthcare and old people care are shoved down its throat.

Between 2003 and 2004 the public health sector in Berlin saved 39 million euros, most of it because 13,000 employees had to forego their Christmas bonus and holiday pay, otherwise the "left" (!) city government and the Vivantes management would have threatened them with dismissal. Since the company was set up almost 4,000 full time jobs and about 1,000 vocational training places have been cut. The employees are blackmailed: insolvency or wage renunciation? The consultancy firm McKinsey pocketed a fee of 2.7 million euros. The dismissals and the drastic reductions in staff levels make the Vivantes hospitals very attractive to investors.

On the other hand the medical care of statutory health insurance patients is no longer guaranteed to reach the level of current scientific and technical capabilities. The lack of staff and the stress levels of medical staff at hospitals have created an extremely perilous situation for patients. It is, for example, not recommended to be brought to the stroke emergency unit in a Vivantes hospital with a suspected stroke.
How left is that? There is no electable left party.

Comments:
(1) Christian Geyer: »Rot stellt sich tot«, Frankfurter Allgemeine Zeitung from 8.4..2009
(2) Ralf Schönball: »Wohnhäuser in Berlin für eine Milliarde gesucht«, in: Tagesspiegel from 15.3.2006
(3) IHK Newsletter Bau- und Immobilienwirtschaft No 7 from. 9.9.2008
(4) www.bmgev.de/privatisierung/konferenz-dokumentation/praesentationen/praesentation-andrej-holm.pdf, accessed on 10.9.2009

Translator's note:
* Government subsidised jobs for long term unemployed people to help them back into work; a more detailed definition can be found here: http://www.working-in-germany.com/ein-euro-job-0132.html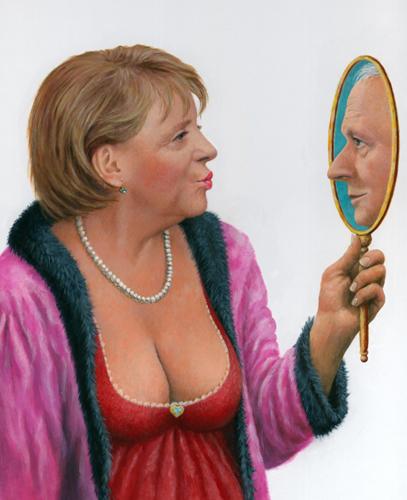 Left Party's leader Oskar Lafontaine in Angela Merkel's mirror. By Ludvik Glazer-Naudé
---
Source: www.jutta-ditfurth.de and http://blog.prinz.de/wahl09/2009/09/11/%c2%bbsackgasse-linkspartei%c2%ab/ Sackgasse Linkspartei


Original article published on 11 September 2009

About the author

(Name) is a member of Tlaxcala, the network of translators for linguistic diversity. This translation may be reprinted as long as the content remains unaltered, and the source, author, translator and reviser are cited.

URL of this article on Tlaxcala: http://www.tlaxcala.es/pp.asp?reference=8712&lg=en